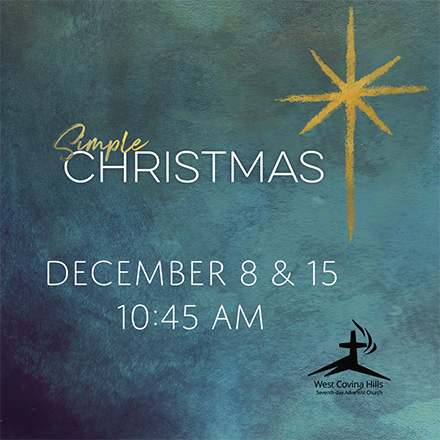 ---
Welcome to the site of the West Covina Hills Seventh-day Adventist Church! At our church, every member is a minister and we want to share the gift of salvation and lead others to Christ. We look forward to meeting you and sharing a love for our Saviour, Jesus Christ.
We are a family-oriented church with many ministries focused on our children.  We support the West Covina Hills Adventist School, which shares our church campus.  The school includes grades K-8.
If you don't find the information you need on our website, please give us a call, email, or stop by.

Sabbath Message - December 8th, 2018
Simple Christmas 1
Pastor Rogelio Paquini shares the story of a humble uncomplicated act that made for a Simple Christmas.
View Past Messages
Service Times
Sabbath School: 9:30 am
Church: 10:45 am

You can reach us by
phone at 626.915.7819
3536 E. Temple Way
West Covina, CA 91791
Our email is:  wchsdachurch@gmail.com
View Meditation Seminar