About Your Speaker: Taj Pacleb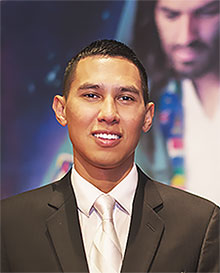 Born and raised in the islands of Hawaii with no religious background, Taj got involved in a reckless life of drugs and partying. But his life was completely transformed at age 16 when he was invited to a prophecy seminar. It was there that he found answers to life's most important questions. Answers that brought freedom from fear, confusion, uncertainty, and the bondage of his addictions. Since then, Taj has become a much sought after international speaker conducting seminars in Germany, France, England, India, Philippines, Thailand, Malaysia, Japan, Indonesia, El Salvador, Ethiopia, Tanzania, Nigeria, Australia, New Zealand, Palau, and many other locations in the United States. Besides his heavy speaking schedule, Taj enjoys motocross, scuba diving, snowboarding, skateboarding, surfing, and photography. But his supreme passion is traveling the world with his wife Wati, sharing Revelation's end time message of hope with others.
Taj will be joining us at 7:00 p.m. Friday, Oct. 28 and at 10:45 a.m. and 4:30 p.m. on Saturday, Oct. 29.