FREE Seminar Coming to West Covina, California
Don't Miss Opening Night
Friday, February 12, 2016 @ 7:00pm
(Meetings Continue Nightly Until March 5, 2016)
---
While the economy crumbles and natural disasters strengthen, with the spike in gas prices and the drop in morals in the wake of political and social decay and terrorism at home and abroad threatening our freedom, people are looking towards the future with fear and uncertainty. The prophecies of Daniel & Revelation dispel all these fears as they reveal to us why these things are happening and how we are to respond.
These Christ centered messages will not only give us a "heads-up" about how our world will end, but also the part we play in it. The book of Revelation pronounces, "Blessed is he who reads and those who hear the words of this prophecy, and keep those things which are written in it; for the time is near." Get ready for an abundant blessing as we study God's Revelation of Hope!
---
About Your Speaker: Taj Pacleb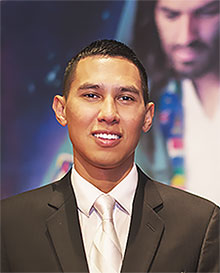 Born and raised in the islands of Hawaii with no religious background, Taj got involved in a reckless life of drugs and partying. But his life was completely transformed at age 16 when he was invited to a prophecy seminar. It was there that he found answers to life's most important questions. Answers that brought freedom from fear, confusion, uncertainty, and the bondage of his addictions. Since then, Taj has become a much sought after international speaker conducting seminars in Germany, France, England, India, Philippines, Thailand, Malaysia, Japan, Indonesia, El Salvador, Ethiopia, Tanzania, Nigeria, Australia, New Zealand, Palau, and many other locations in the United States. Besides his heavy speaking schedule, Taj enjoys motocross, scuba diving, snowboarding, skateboarding, surfing, and photography. But his supreme passion is traveling the world with his wife Wati, sharing Revelation's end time message of hope with others.
The Revelation of Hope Bible Prophecy Seminar is a multimedia experience especially designed for busy people, and is presented in a relaxed atmosphere for Christians and non-Christians alike. You are invited to "come as you are" to receive a rich blessing from the study of Bible Prophecy as it relates to our day.
Taj's promise to you is:
The Bible alone will be our textbook and sole rule of authority.
You will learn more about Bible Prophecy in a few nights than most have learned in an entire lifetime! Guaranteed.
---
---
Free During The Seminar
Revelation of Hope for Kids
This program is for children ages 5-10. Each night Christ-centered and Bible based lessons are presented. Kids will have so much fun digging into God's Word, memorizing Scripture, singing spiritual songs, and learning how to apply God's truth to their lives. They will also participate in Bible crafts, cooking class demos, and other fun activities making lasting friendships. It is an experience they will never forget! We're reserving spots now, so call and sign up your child ASAP! Best of all, this program is FREE!
Free During the Seminar
Free Revelation of Hope for Kids (ages 5-10)
Bible (For attending 10 nights)
Nightly Music by The Revelation of Hope Singers
Nightly drawings for FREE Books, DVD's & Bible Resources
Health Education Seminars
Bible Study Guides
Nightly Refreshments
Free Parking
---
---
West Covina Seminar Topics & Schedule
(Meetings Continue Nightly From February 12 to March 5)
| | | |
| --- | --- | --- |
| Day / Dates | Time | Titles |
| Fri, Feb 12 | 7pm | Unlocking the Mysteries of the Apocalypse |
| Sat, Feb 13 | 5pm | Prophecy's Final Countdown |
| Sat, Feb 13 | 7pm | The Lamb of Revelation |
| Sun, Feb 14 | 5pm | Superpowers of Prophecy |
| Sun, Feb 14 | 7pm | Revelation's Two Minute Warning |
| Mon, Feb 15 | 7pm | Israel in Prophecy |
| Tue, Feb 16 | 7pm | The Secret About the Secret Rapture |
| Thur, Feb 18 | 7pm | Revelation's Answer for Global Peace |
| Fri, Feb 19 | 7pm | Revelation's Eternal Sign of Love |
| Sat, Feb 20 | 11am | Why Does God Allow Suffering? |
| Sat, Feb 20 | 5pm | Revelation of Hope Singers Sacred Music Concert |
| Sat, Feb 20 | 7pm | Antichrist's Greatest Deception |
| Sun, Feb 21 | 5pm | How to Postpone Your Funeral |
| Sun, Feb 21 | 7pm | Can the Dead Speak to Us? |
| Mon, Feb 22 | 7pm | Revelation's Final Showdown |
| Tues, Feb 23 | 7pm | Living to Die & Dying to Live |
| Fri, Feb 26 | 7pm | Revelation's Mysterious Horsemen |
| Sat, Feb 27 | 11am | The Path to the Throne of God |
| Sat, Feb 27 | 5pm | The Wine of Babylon |
| Sat, Feb 27 | 7pm | Survivors of the Longest War |
| Sun, Feb 28 | 7pm | The Mark of the Beast & the Seal of God |
| Mon, Feb 29 | 7pm | A Love That Transforms |
| Tues, March 1 | 7pm | Revelation's Spirit of Prophecy |
| Fri, March 4 | 7pm | Solemnity of Decision |
| Sat, March 5 | 11am | Can a Saved Man Choose to be Lost? |
| Sat, March 5 | 7pm | What Will Heaven Be Like |
---
Revelation of Hope Seminar Location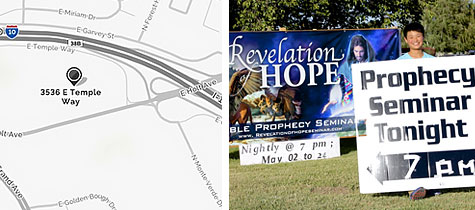 Revelation of Hope Seminar
3536 E Temple Way
West Covina, CA 91791
For more information, call:
888-610-2296