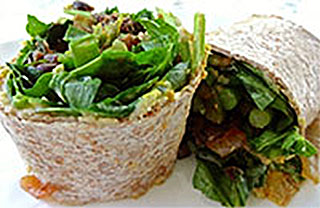 Salad Wraps with Beans and Greens
(Vegan)
Makes: 4 servings (depending on Tortilla size)
Prep Time: 5 minutes
Cook Time: none
2 large whole-grain tortillas
Hummus (oil-free, tahini-free hummus if you have it )or Baba Ghannouj
1c fresh spinach leaves, chopped (or other salad greens)
6 leftover spears of steam-sautéed or roasted asparagus (or other cooked vegetable)
1c leftover Spiced Beans, Peppers, and Onions
Time crunch? Just mix ¾-1 cup of salsa with a can of drained and rinsed black beans.
Or if you have time to cook:
Spiced Beans, Peppers, and Onions
1 onion, diced
1 green pepper, chopped
1 can black beans, rinsed and drained
1 tablespoon Mexican Seasoning
Tips:
Prepare the Spiced Beans, Peppers, and Onions mixture ahead of time and store in refrigerator for wraps any day of the week.
Directions
Spread the tortillas with a layer of hummus.
Cover most of the hummus with the spinach, from one end all the way across to the other. Add the asparagus down the center of each tortilla.
Spoon the Spiced Beans, Pepper, and Onions mixture over the top of each tortilla. Carefully roll the tortillas as tightly as you can.
To slice, cut the wraps into halves. Line up halves, and cut each one into halves again, and serve.