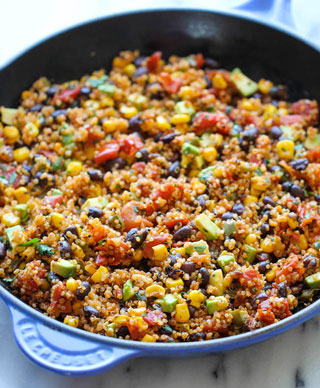 One Pan Mexican Quinoa
(Vegan)
Prep Time: 10 minutes
Cook Time: 25 minutes
Total Time: 35 minutes
(Makes 4 Servings)
Wonderfully light, healthy and nutritious. And it's so easy to make - even the quinoa is cooked right in the pan!
1 tablespoon olive oil or water sauté
2 cloves garlic, minced
1 jalapenos, minced
1 cup quinoa
1 cup vegetable broth
1 (15-ounce) can black beans, drained and rinsed
1 (14.5 oz) can fire-roasted diced tomatoes
1 cup corn kernels
1 teaspoon chili powder
1/2 teaspoon cumin
1/2-3/4 tsp salt or to taste and freshly ground black pepper, to taste
1 avocado, halved, seeded, peeled and diced
Juice of 1 lime
2 tablespoons chopped fresh cilantro leaves or more to taste
Heat olive oil in a large skillet over medium high heat. Add garlic and jalapeno, and cook, stirring frequently, until fragrant, about 1 minute.
Stir in quinoa, vegetable broth, beans, tomatoes, corn, chili powder and cumin; season with salt and pepper, to taste. Bring to a boil; cover, reduce heat and simmer until quinoa is cooked through, about 20 minutes. Stir in avocado, lime juice and cilantro.
Serve immediately.