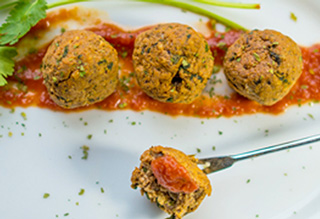 Italian Mushroom Meatballs
(Vegan)
By James Rohrbacher
Makes: 8 servings
Prep Time: 30 minutes
1 1/2 cups old fashioned rolled oats
1 cup walnuts
1 cup low sodium vegetable broth or water
1/4 cup tomato paste
1/4 cup Dr. Fuhrman's MatoZest or other no-salt seasoning blend, adjusted to taste
1 onion, diced
3 cloves garlic, minced
6 cups mushrooms, pulsed in food processor
1 tablespoon dried basil
1 tablespoon dried oregano
1 tablespoon ground fennel seed
1/2 teaspoon red pepper flakes or to taste
1 ½ tsp. salt or to taste
freshly ground black pepper
3 cups fresh or frozen greens (kale, collards, mustards or spinach), finely chopped
2 tablespoons fresh parsley, minced
2 tablespoons nutritional yeast
no-salt-added pasta sauce (for serving)
Instructions:
Preheat oven to 350 degrees F.
Pulse the oats and walnuts in a food processor until coarsely ground and then place in a large mixing bowl. Set aside.
In a small saucepan, whisk together vegetable broth (or water), tomato paste and MatoZest. Heat over medium high heat until boiling. Pour over the ground oats and walnuts. Stir well and set aside.
Dry sauté the onions, garlic and mushrooms, covered, until onion is translucent. Add the basil, oregano, fennel, red pepper flakes, black pepper and greens and continue cooking uncovered until there is no liquid in the pan.
Combine the sautéed onions and mushrooms with the rolled oat/walnut mixture and add the parsley and nutritional yeast. Stir well to combine. Using a small ice cream scoop and your hands, shape into small balls about 1 inch in diameter and place on a Silpat-lined or lightly-oiled baking sheet. Bake for 20 minutes, then turn the balls over and bake for another 15 minutes or until lightly browned.
Serve with warmed, no-salt-added pasta sauce.
Per Serving:
CALORIES 260; PROTEIN 11g; CARBOHYDRATES 30g; TOTAL FAT 12.9g; SATURATED FAT 1.3g; CHOLESTEROL 1.3mg; SODIUM 98mg; FIBER 8.3g; BETA-CAROTENE 4522ug; VITAMIN C 12mg; CALCIUM 186mg; IRON 8mg; FOLATE 145ug; MAGNESIUM 111mg; ZINC 2.2mg; SELENIUM 19.8ug