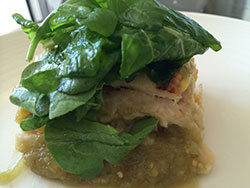 Green Enchilada Casserole
(Vegan)
By Mary McDougall
(Serves: 6 - 8)
I like to serve this with fresh greens, such as arugula or spinach, tossed with a little lime juice. Chopped onions, fresh salsa and avocado also go well with this dish. I put out a number of different toppings for my family. My boys tend to eat more if they get to play a part in choosing what is going to go with their meal.
Enchilada Filling:
4 cups cooked cannellini beans or 3 15 oz. cans drained and rinsed
3 cloves garlic
1 medium white onion, roughly chopped
salt to taste
4 ounce can mild diced green chilies
1 cup fresh or frozen corn soft corn tortillas
Puree white beans in a food processor with garlic, onion and green chilies. You may need to do this in two batches. Stir in corn.
To Make the Enchiladas: Using a 9 x 13 baking dish, spray the bottom with Pam and then a thin layer of green sauce. Now spread the tortillas out in a layer then spread ½ of the puréed white beans over them.
Next spread a layer of ½ the White Sauce (recipe below) and repeat all of the layers again then one more layer of tortillas on top, ending with a layer of Green Enchilada Sauce (recipe below) on top. Reserve some to place again on top after baking.
Bake uncovered in an oven preheated to 350° for 30 to 45 minutes. Top with chopped cilantro some more green sauce and serve.
White Sauce:
Preparation Time: 5 minutes
Cooking Time: 10 minutes
Servings: 2 cups
3 tablespoons nutritional yeast
4 tablespoons brown rice flour (The rice flour can be ground to flour in a Vitamix blender) or use whole wheat flour.
1 teaspoon onion powder
1 teaspoon garlic powder
2 cups non-dairy milk
¾ tsp .salt or to taste
Pour the dry ingredients into a skillet and allow them to cook until they begin to toast. Add the milk and whisk well until combined. Then whisk until the sauce thickens.
Green Enchilada Sauce:
Preparation Time: 5 minutes
Cooking Time: 10 minutes
Servings: 2 cups
1 7-ounce can Mexican green sauce (Salsa Verde)
1 ½ cups water
2 tablespoons cornstarch, ¼ tsp. salt (optional)
Chopped fresh cilantro for garnish (optional)
Combine all of the ingredients except the cilantro. Cook over medium heat, stirring constantly, until the mixture boils and thickens. Add the cilantro just before serving.