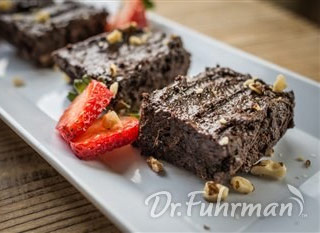 Chocolaty Brownies
(Vegan)
Makes: 9 servings
Show someone you care with a batch of these rich, moist frosted brownies. They contain heart-healthy cocoa powder and walnuts and are made without refined white flour or sugar.
For the Brownies:
1/2 cup natural cocoa powder
1/2 cup almond or chestnut flour( or almond meal found at Trader Joes)
1 3/4 cups mashed cooked sweet potato
1/2 teaspoon cinnamon
¼ tsp stevia
1 teaspoon alcohol-free vanilla flavor
1/2 teaspoon baking soda
1/2 teaspoon baking powder
2/3 cup roughly chopped walnuts
1 tablespoon ground flax, hemp or chia seeds
3 tablespoons soy, hemp or almond milk
Preheat oven to 350 degrees F.
Mix the cocoa powder and flour together and then mix into the mashed sweet potato. Stir in cinnamon, vanilla, baking soda, baking powder, walnuts, seeds and non-dairy milk. Press dough into a lightly-oiled 9" x 9" baking dish and bake for 30 minutes. The brownies will firm up after they have cooled.
For the Frosting:
6 regular or 3 Medjool dates, pitted
2 tablespoons tahini
2 tablespoons natural cocoa powder
4-5 tablespoons water to thin icing
Using a food processor, process dates until they form a paste, then add remaining ingredients. Spread on brownies after they have cooled. Cut into squares.